The Artist, while wandering the house, collects heavy-handed scrap drawings with rats in various predicaments.  Typically there are phrases like "diseased" "vile" "filthy" scrawled onto them.
14 have been found so far.
List of reported scrawlings
Edit
Body Borrowers
Dust Mice
Prothesis Snatchers
Screeching Arsonists (The Library, Iteration 1)
Lice Mice (The Bedroom, Iteration 3)
Minced Mice
Floor Creepers
Dangling Dread (The Basement, Iteration 3)
Flapping Horror (The Dining Room)
Rodent Seeds
Canvas Crawlers
Silent Floaters (The Bathroom)
Haunting Mimics
Fluffy Fakers (The Nursery after vision)
Plague Breeder
Vermin Groth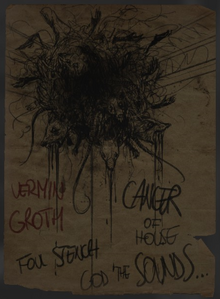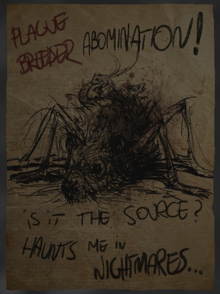 Ad blocker interference detected!
Wikia is a free-to-use site that makes money from advertising. We have a modified experience for viewers using ad blockers

Wikia is not accessible if you've made further modifications. Remove the custom ad blocker rule(s) and the page will load as expected.