Many paintings appear in Layers of Fear, taking various roles. Some of the most significant are listed below.
The Rat Lady
Edit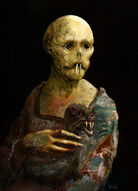 A distorted re-imagining of "Lady with an Ermine" by Leonardo DaVinci, she appears in the first official trailer, and in game, inside a room where the "Canvas Crawlers" rat scrawling can be found in Iteration 3.
Manbaby is the Artist's most recent work, and can be seen prominently displayed in the Study.
Ad blocker interference detected!
Wikia is a free-to-use site that makes money from advertising. We have a modified experience for viewers using ad blockers

Wikia is not accessible if you've made further modifications. Remove the custom ad blocker rule(s) and the page will load as expected.