Many paintings appear in Layers of Fear, taking various roles. Some of the most significant are listed below.
The Rat Lady
Edit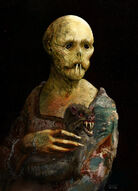 A distorted re-imagining of "Lady with an Ermine" by Leonardo DaVinci, she appears in the first official trailer, and in game, inside a room where the "Canvas Crawlers" rat scrawling can be found in Iteration 3.
Manbaby is the Artist's most recent work, and can be seen prominently displayed in the Study.